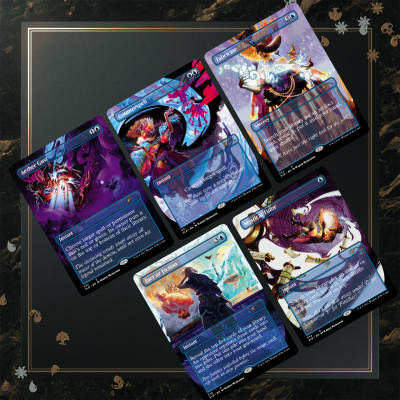 Shipping is free on orders over $99! —US only—
Description
Overview
Do you ever just like, look at your spells? We mean like, really look at them. Like, take a real long stare at these blue beauties by Mateus Manhanini. There's so much to take in! These cards are the perfect centerpiece to any collection, and a jaw-dropping addition to any deck. Your opponents will be so spellbound they might even forgive you for countering their spell.
Contents
1x Borderless Aether Gust 
1x Borderless Counterspell 
1x Borderless Fabricate 
1x Borderless Fact or Fiction 
1x Borderless Mystical Tutor 
MTG Arena Redemption: 
One (1) single-use code for
three (3) Far Out, Man Themed Sleeves
(may be available later for separate purchase in MTG Arena). 
*MTG Arena and Magic Online codes must be redeemed within one year of order confirmation. Not available in all countries or territories. Not for resale.
**MTG Arena and Magic Online codes are not available in the following regions: China, Hong Kong, Macao, Singapore, Taiwan and Vietnam.
***MTG Arena codes are not available for in-app redemption. Redeem codes via the desktop client or by logging into your Wizards account. Redeemed content is available on your account on any platform.
****Unless otherwise stated, all printed "Secret Lair" drops are English language.