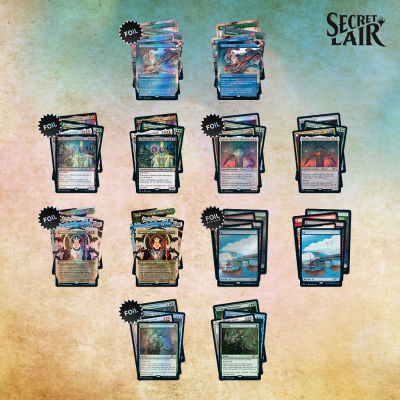 Shipping is free on orders over $99! —US only—
Included items (12)

Special Guest: Kelogsloops Foil Edition

Special Guest: Kelogsloops

Artist Series: Livia Prima Foil Edition

Artist Series: Livia Prima

Artist Series: Chris Rahn Foil Edition

Artist Series: Chris Rahn

Rule the Room Foil Edition


The Tokyo Lands Foil Etched Edition

Artist Series: Volkan Baga Foil Edition

Artist Series: Volkan Baga
Buy this bundle and save
$90.89
Description
Overview
Y'all know the drill. This bundle is for bundle lovers ONLY. It's two bundles bundled into one bundle! That's what's up. Much like how King Arthur was the only one able to yoink Excalibur out of the rock in which it was embedded, only you, the Bundle Lover Who Was Foretold, are worthy to place this double bundle in your digital shopping cart. If you turn to page 768 of the Ancient Scrolls (you do have your copy of the Ancient Scrolls handy, right?), you can see the part where your destiny was, uh, predestined. Or maybe that's a chocolate smudge on our copy? Hard to say! Only one way to find out: it's Bundle Bundle time, bud! 
Contents
1x Full-of-Foils Bundle 
1x Non-Stop, Non-Foil Bundle 
MTG Arena Redemption: 
* One (1) single-use code for: 
- Four (4) "
Special Guest: kelogsloops
" Themed Sleeves
- Four (4) "
Artist Series: Livia Prima
" Themed Sleeves
- Five (5) "
Artist Series: Chris Rahn
" Themed Sleeves
- Four (4) "
Artist Series: Volkan Baga
" Themed Sleeves
*Sleeves may be available later for separate purchase in MTG Arena.
*MTG Arena and Magic Online codes must be redeemed within one year of order confirmation. Not available in all countries or territories. Not for resale.
**MTG Arena and Magic Online codes are not available in the following regions: China, Hong Kong, Macao, Singapore, Taiwan and Vietnam.
***MTG Arena codes are not available for in-app redemption. Redeem codes via the desktop client or by logging into your Wizards account . Redeemed content is available on your account on any platform.
****Unless otherwise stated, all printed "Secret Lair" drops are English language.