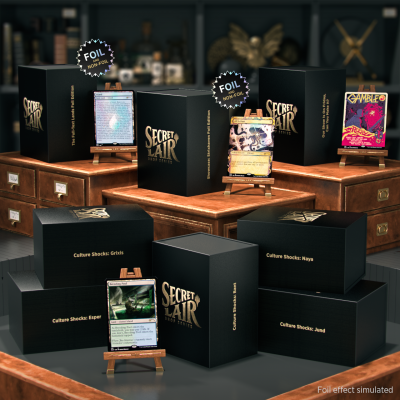 Shipping is free on orders over $99! —US only—
Description
Overview
Friends, this is what you've come to see: one of each of Dr. Lair's finest exhibits. This bundle has it all. Each drop, in both foil and non-foil (when available) for you to keep. Such splendors, available for your own home and collection! Behold!
Contents
CONTENTS:
1x Culture Shocks: Bant
1x Culture Shocks: Esper
1x Culture Shocks: Grixis
1x Culture Shocks: Jund
1x Culture Shocks: Naya
1x The Full-Text Lands
1x The Full-Text Lands Foil Edition
1x Our Show Is on Friday, Can You Make It?
1x Showcase: Strixhaven
1x Showcase: Strixhaven Foil Edition
MTG Arena Redemption:
One (1) single-use code for
one (1) "Showcase: Strixhaven" Themed Sleeve
(may be available later for separate purchase in MTG Arena).
*MTG Arena and Magic Online codes must be redeemed within one year of order confirmation. Not available in all countries or territories. Not for resale.
**MTG Arena and Magic Online codes are not available in the following regions: China, Hong Kong, Macao, Singapore, Taiwan and Vietnam.
***MTG Arena codes are not available for in-app redemption. Redeem codes via the desktop client or by logging into your Wizards account. Redeemed content is available on your account on any platform.
****Unless otherwise stated, all printed Secret Lair drops are English language.