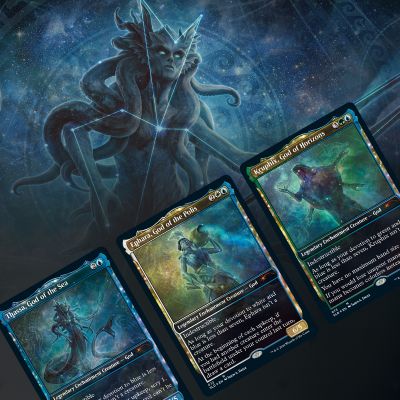 Theros Stargazing: Vol. II (Thassa)
Shipping is free on orders over $99! —US only—
Description
Overview
Each constellation tells a story that spans centuries, from the defeat of the titans to the threat of the Reveler. This drop holds your favorite legendary creatures at their celestial best—a must have for any true believer. Express your devotion to the sea, the city, and the horizon with beautiful alt-art constellation gods by Jason A. Engle. 
Contents
Contents:  

1x Foil Alt-Art Thassa, God of the Sea  
1x Foil Alt-Art Ephara, God of the Polis  
1x Foil Alt-Art Kruphix, God of Horizons  
MTG Arena Redemption:  
One (1) single-use code for one MTG Arena Theros Stargazing: Vol. II Themed Sleeve (may be available later for separate purchase in MTG Arena). 
*MTGO and Arena codes must be redeemed before December 31, 2020. Not available in all countries or territories. Not for resale.
** [MTG Arena Redemption] is not available in the following regions: China, Hong Kong, Macao, Taiwan and Vietnam.