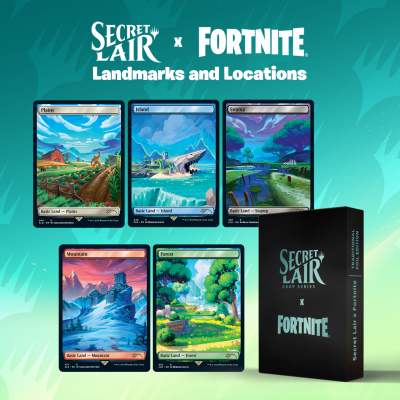 Secret Lair x FORTNITE: Landmarks and Locations
Shipping is free on orders over $99! —US only—
Description
Overview
Ready up for a new Duos match—Secret Lair is teaming up with Fortnite!

For the second drop, uncover every corner of the map with one of each basic land (including Island, of course) displaying some of Fortnite's famous locales. The artwork on each piece captures the vibrant aesthetics of the Island so well, you'll think you've just glided in yourself. Grab a copy for your deck or collection now—the storm is shrinking fast!

© 2022 Epic Games, Inc. Fortnite and its logo are trademarks of Epic Games, Inc. in the USA (Reg. U.S. Pat. & Tm. Off.) and elsewhere.
Contents
1x Full-Art Plains
1x Full-Art Island
1x Full-Art Swamp
1x Full-Art Mountain
1x Full-Art Forest