CONTACT US
How do I contact customer support?
For any questions relevant to the ordering process, please contact customer support here.
FREQUENTLY ASKED QUESTION (FAQ)
Which payment methods can I use?
You can make a purchase with a credit card (including Visa, Mastercard, Discover, American Express), but also with PayPal (in relevant countries).
Is the payment secure?
Yes, it is. All information sent to the payment service providers is encrypted and protected with the latest SSL technology, most widely used in the world. It is the guarantee that the transmission of your sensitive information is secure. Moreover, we do not store any payment card information on our servers. The transaction statement will be labelled Scalefast in your bank account.
I did not receive an email confirming my order. What can I do?
First, please verify the email did not come through as spam. If not, please contact us, providing us with all your purchase details so we may verify your purchase status and send a confirmation email back over to you. The customer support can be reached here.
I would like to cancel my order. How can I proceed?
You can ask to cancel your order here.
Scalefast appears on my account statement. Shouldn't I be billed by Wizards of the Coast?
No. Scalefast is the authorized merchant for the products available in this online store.
Where can I find my order ID?
Your order ID can be found in your order's confirmation email from [email protected] once you completed your purchase.
Why was I charged for a failed purchase or charged twice for one same purchase?
In either case, any such purchase should not clear your bank's fraudulent transaction verifications. Your bank freezes your funds for up to 5 working days before validating or cancelling the transaction, in such a case. Scalefast does not cash in your purchase within those 5 days. Please contact your bank to ensure the cancellation of the transaction. Should charges still be pending past 5 working days, please contact customer support so that we can investigate and help you resolve this issue, in cooperation with your bank.
The page keeps telling me my purchase is pending
Whilst usually immediate, your order can sometimes take up to 4 hours to be processed. Beyond 4 hours, please try making the purchase a second time. If you are using a payment method that directs you to an external website (such as PayPal), you will be redirected to the store, after filling in your billing details. This procedure will confirm your purchase, and may take up to 60 seconds. To avoid purchasing failures, please do not click on the back/refresh button or close the payment window before this process is complete.
I'm having trouble with my PayPal payment
We do not accept payments with unverified PayPal accounts or with eCheck. To make a payment with PayPal without having a credit card linked to your PayPal account, you must have a sufficient balance on your PayPal account.
Where can Secret Lair be shipped to?
Purchases can be shipped to the following locations:
Domestic Shipping:
United States
DDP Countries – Taxes, Tariffs and Custom Fees are payed on purchase.
Australia, Austria, Belgium, Canada, Cyprus, Czech Republic, Germany, Denmark, Spain, Finland, France, Greece, Croatia, Hungary, Ireland, Italy, Luxembourg, Malta, Netherlands, Poland, Portugal, Sweden, Slovenia, Slovakia, United Kingdom.
DDU Countries – Your local post office or customs exchange may require additional payment to release the product.
Japan, South Korea, New Zealand
For any other countries around the world, please know that we are working on expanding our global reach to additional locations in a legally compliant way that also provides a good user experience. You are not forgotten.
Shipping Time
Shipping time cut-offs for US/DDU/DDP orders: This product is Timeboxed to Demand, meaning your order will ship when they are in stock. We expect orders to arrive in December 2019 - January 2020.
What is the Secret Lair ?
You've found Secret Lair! Here be treasures unlike anything else in Magic: The Gathering—ultra-collectible, lovingly curated card drops featuring some of the most exciting artists working today. Each drop is available for a very limited time.
What if I discover a defect with my Secret Lair drop?
If you have purchased one of our Secret Lair products our online store, and you discover a defect with that product, we can help you with a replacement via our support portal.
How many copies of Secret Lair drop can I purchase?
Sales are limited to 10 per customer.
Where can I purchase Secret Lair products?
Secret Lair drops are available exclusively at secretlair.wizards.com.
Are the MTGO and MTG Arena Digital codes exclusive to the Secret Lair?
Magic: the Gathering Online – The individual cards that are redeemable by code included with your Secret Lair purchase are exclusive and will not be sold in the Magic: the Gathering Online Store.
MTG Arena – The sleeves that are redeemable by code included with your Secret Lair Purchase will be on sale via the MTG Arena Client at a later date.
How do I redeem a Magic: the Gathering Online?
1.) After logging into the Magic Online Client proceed to the "Store" Tab.

2.) Enter your code in the bottom right corner of the Store and select "Redeem".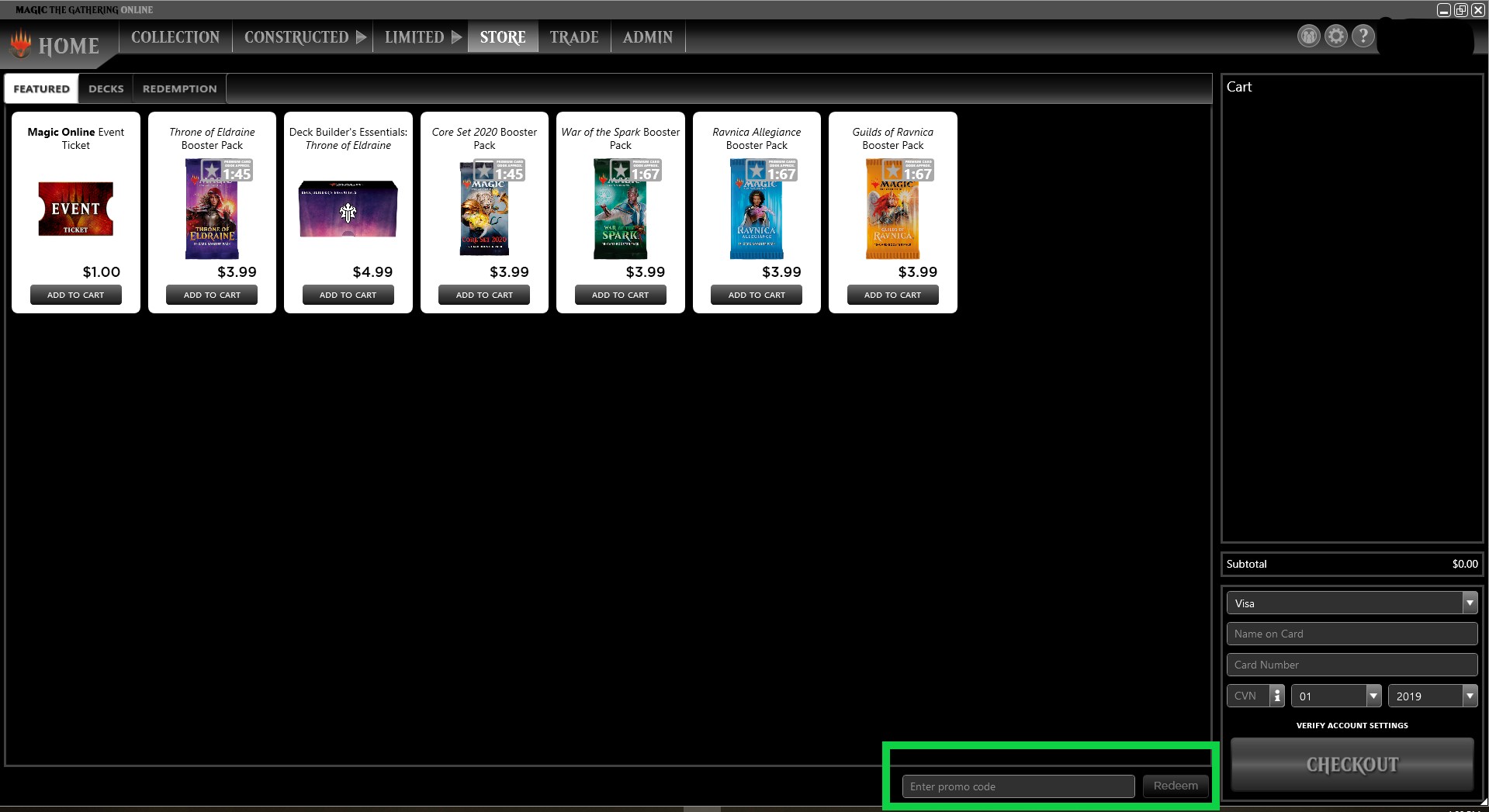 How do I redeem an MTG Arena Code?
1. Click on the Store tab
1. Enter your code in the Redeem Code field on the right-hand side of the screen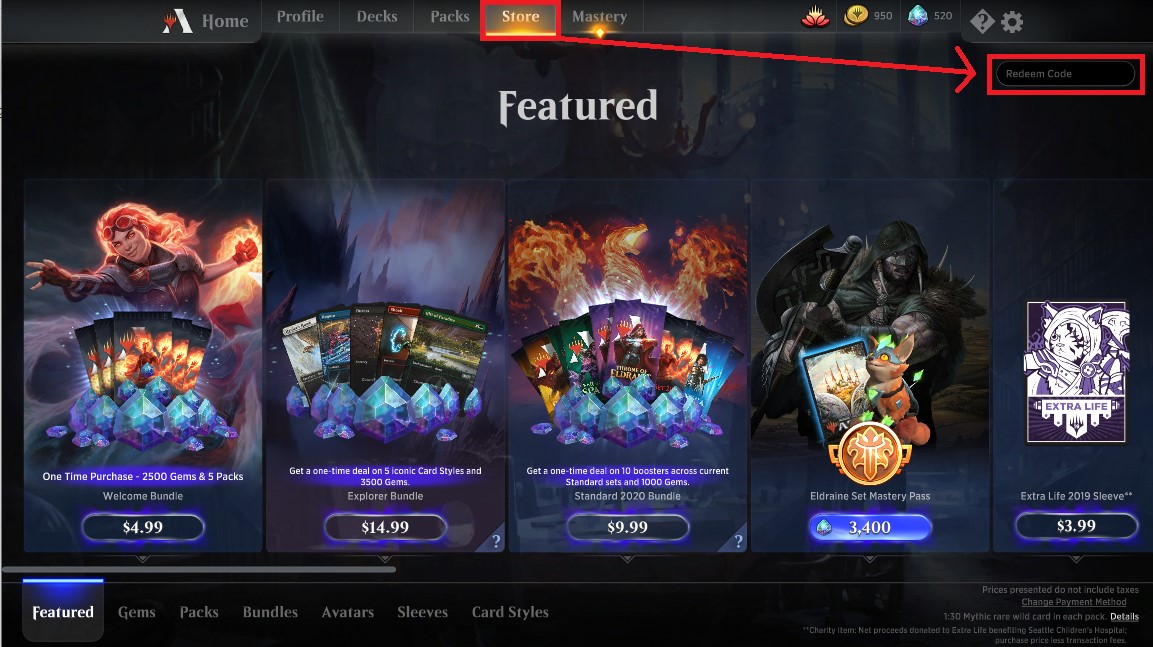 When entering a code, keep the following tips in mind:
Codes are case-sensitive
Most codes are limited to one per account
Avoid any leading or trailing spaces (extra spaces before or after your code, which can appear as a result of copying & pasting text)
Codes that are expired, incorrect, or already redeemed will result in a "Redeem Code Failure" message
If you played in a Prerelease, check your Prerelease Pack for a code that will let you enter an event! It's located on the back of the Token Card next to the rules insert
When redeeming certain older codes on MTG Arena, there is no visual confirmation of what was added to your inventory. There is a prompt that states if the code redemption is successful, however
Where can I find more information about Secret Lair?
For more general questions, please submit the form here.