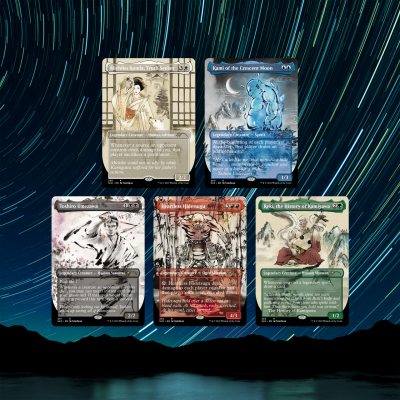 Shipping is free on orders over $99! —US only—
Description
Overview
Kamigawa is an ancient plane packed with centuries of history. Experience its rich stories through the unparalleled brushwork of the artist JungShan! Traditional Japanese brushwork meets classic Magic story—it's the perfect way to class up your deck or collection. Reki's ink has nothing on this pack! 
Contents
CONTENTS:
1x Borderless Heartless Hidetsugu
1x Borderless Kami of the Crescent Moon
1x Borderless Michiko Konda, Truth Seeker
1x Borderless Reki, the History of Kamigawa
1x Borderless Toshiro Umezawa
*Unless otherwise stated, all printed "Secret Lair" drops are English language.