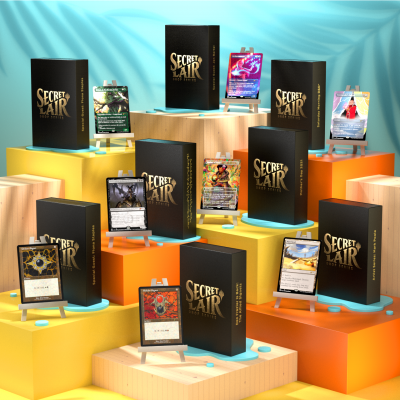 Totally Refreshing Non-Foil Bundle
Shipping is free on orders over $99! —US only—
Description
Overview
Take a big sip of all the non-foil drops in the All-Natural, Totally Refreshing Superdrop. All the drops come in non-foil, so you won't miss a thing. Beat the heat with these delicious drops!  
Contents
CONTENTS 
1x Artist Series: Mark Poole  
1x Dan Frazier Is Back: The Allied Signets 
1x Dan Frazier Is Back: The Enemy Signets  
1x Mother's Day 2021  
1x Phyrexian Praetors: Compleat Edition  
1x Saturday Morning D&D  
1x Special Guest: Fiona Staples  
1x Special Guest: Jen Bartel 
MTG Arena Redemption:
One (1) single-use code for
five (5) Phyrexian Praetor Card Styles
. (Card Styles may be available later for separate purchase in MTG Arena and do not include base card which must be purchased separately.)
*MTG Arena and Magic Online codes must be redeemed within one year of order confirmation. Not available in all countries or territories. Not for resale.
**MTG Arena and Magic Online codes are not available in the following regions: China, Hong Kong, Macao, Singapore, Taiwan and Vietnam.
***MTG Arena codes are not available for in-app redemption. Redeem codes via the desktop client or by logging into your Wizards account. Redeemed content is available on your account on any platform.
****Unless otherwise stated, all printed Secret Lair drops are English language.
*****The release date of this product was changed from September 23, 2021 to October 29, 2021.