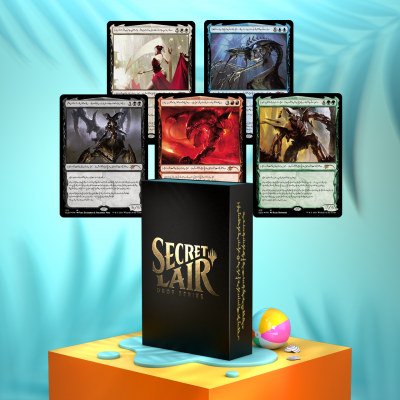 Phyrexian Praetors: Compleat Edition
Shipping is free on orders over $99! —US only—
Description
Overview
Glory to Phyrexia! Celebrate the Praetors' inevitable victory over the rest of the Multiverse with these five terrifyingly awesome reprints. This is each of the original Praetor cards, lovingly restored to the original Phyrexian they were written in when we found them in a pool of a viscous black fluid that had begun to seep out of the haunted R&D mini fridge. For good measure, we've placed them in the new legendary Praetor frame that debuted with Kaldheim. It's never too early to suck up to your future monstrous overlords.  
Contents
CONTENTS 
1x Phyrexian Elesh Norn, Grand Cenobite  
1x Phyrexian Jin-Gitaxias, Core Augur 
1x Phyrexian Sheoldred, Whispering One 
1x Phyrexian Urabrask the Hidden 
1x Phyrexian Vorinclex, Voice of Hunger 
MTG Arena Redemption:
One (1) single-use code for
five (5) Phyrexian Praetor Card Styles
. (Card Styles may be available later for separate purchase in MTG Arena and do not include base card which must be purchased separately.)
*MTG Arena and Magic Online codes must be redeemed within one year of order confirmation. Not available in all countries or territories. Not for resale.
**MTG Arena and Magic Online codes are not available in the following regions: China, Hong Kong, Macao, Singapore, Taiwan and Vietnam.
***MTG Arena codes are not available for in-app redemption. Redeem codes via the desktop client or by logging into your Wizards account. Redeemed content is available on your account on any platform.
****Unless otherwise stated, all printed Secret Lair drops are English language.
*****The release date of this product was changed from September 23, 2021 to October 29, 2021.