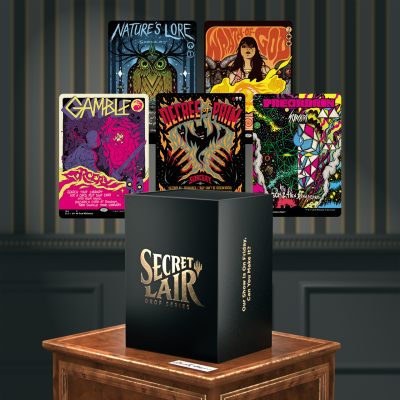 Our Show Is On Friday, Can You Make It?
Shipping is free on orders over $99! —US only—
Description
Overview
Hey dude. So like, we have a show down at the Rakdos Carnarium this Friday, and it would be super cool if you could come out. Oh no, Fblthp's already working the merch table, we don't need you for that. It would just be cool to see you like, out in the crowd, y'know? You get hyped, the people around you get hyped—everyone's having a good time. Who else is playing? Oh, you know. Just some cool Hand-Drawn cards by Ian Jepson, Sam McKenzie, Jermaine Rogers, Jeff Soto, and Alexis Ziritt. So, you're coming? Great! Do you think you could help us load in? Wait, where are you going?
Contents
CONTENTS:
1x Hand-Drawn Decree of Pain
1x Hand-Drawn Gamble
1x Hand-Drawn Nature's Lore
1x Hand-Drawn Preordain
1x Hand-Drawn Wrath of God