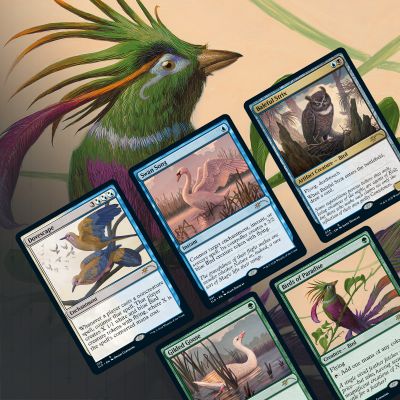 Shipping is free on orders over $99! —US only—
Description
Overview
Of all of Magic's fictional creatures, birds are far and away the most popular. First invented by Richard Garfield in 1987, birds eventually made their way into Alpha via the powerful "Birds of Paradise" card. We thought it would be cool to envision what birds would look like if they existed in real life, so we commissioned some naturalistic, classical illustrations from Ovidio Cartagena and Allen Douglas.

Or get this drop, four others, and an Alt-Art Fetch Land in the Summer Superdrop Bundle!

Estimated Shipping Date: August 15th - September 30th

Our Secret Lair Summer Superdrop Sale has been postponed June 4th in observance of the National Day of Mourning.  Our sale will resume with Mountain, Go on June 8th at 9am PST.  For the latest updates please follow us on our Secret Lair Twitter HERE.
Contents
CONTENTS:
1x Alt-Art Baleful Strix
1x Alt-Art Birds of Paradise
1x Alt-Art Dovescape
1x Alt-Art Gilded Goose
1x Alt-Art Swan Song
MTG Arena Redemption:
One (1) single-use code for
one MTG Arena Ornithological Studies Themed Sleeve
(may be available later for separate purchase in MTG Arena).
Magic Online Redemption:
One (1) unique code to redeem one (1) copy of each Secret Lair Drop Baleful Strix, Birds of Paradise, Dovescape, Gilded Goose, and Swan Song for use in Magic Online.
*MTG Arena and Magic Online codes must be redeemed within one year of order confirmation. Not available in all countries or territories. Not for resale.
**MTG Arena and Magic Online codes are not available in the following regions: China, Hong Kong, Macao, Singapore, Taiwan and Vietnam.
***Unless otherwise stated, all printed Secret Lair drops are English language.