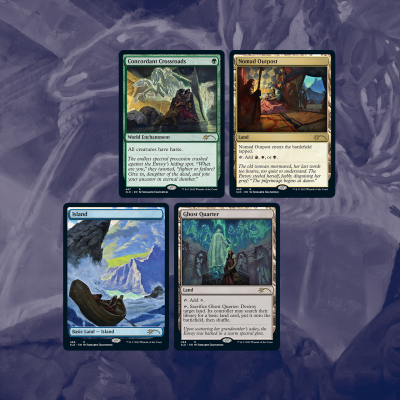 Artist Series: Sidharth Chaturvedi
Shipping is free on orders over €99!
Description
Overview
Sidharth Chaturvedi has a story to tell. Every one of his cards could spark a novel—the light, the expression, the posing—each a story in its own right. When we asked Sidharth if he would honor us with an Artist Series, he asked if his four cards could tell a story. They tell of a journey filled with grief, struggle, and success. Sidharth even helped us craft the flavor text to make sure his story was properly told. There may be several interpretations of Sidharth's story, but all can agree on one thing: these cards feature gorgeous art that make each retelling a joy. 
Contents
1x Nomad Outpost 
1x Island 
1x Concordant Crossroads 
1x Ghost Quarter 
MTG Arena Redemption: 
*One (1) single-use code for four (4) "
Artist Series: Sidharth Chaturvedi"
 Themed Sleeves (may be available later for separate purchase in MTG Arena). 
*MTG Arena and Magic Online codes must be redeemed within one year of order confirmation. Not available in all countries or territories. Not for resale.
**MTG Arena and Magic Online codes are not available in the following regions: China, Hong Kong, Macao, Singapore, Taiwan and Vietnam.
***MTG Arena codes are not available for in-app redemption. Redeem codes via the desktop client or by logging into your Wizards account Redeemed content is available on your account on any platform.
****Unless otherwise stated, all printed "Secret Lair" drops are English language.