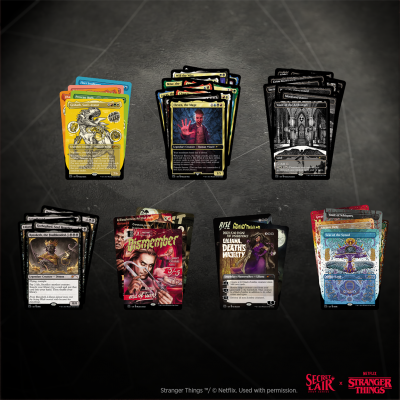 Non-Foil Nightmare Bundle
Shipping is free on orders over €99!
Description
Overview
So, you desire every non-foil drop? Then, perhaps you'd be interested in this NON-FOIL NIGHTMARE. A man lost his hand in a mysterious accident. To take his mind off things, he entered a Friday Night Magic event. His first-round opponent? HIS VERY OWN SEVERED HAND! It was a good match, and they still keep in touch to this day. TERRIFYING! 

Stranger Things ™/ © Netflix. Used with permission.
Contents
1x Mirrodinsanity 
1x Monster Anatomy 101 
1x Monster Movie Marathon 
1x Read the Fine Print 
1x Secret Lair x Stranger Things 
1x Showcase: Midnight Hunt 
1x Thrilling Tales of the Undead