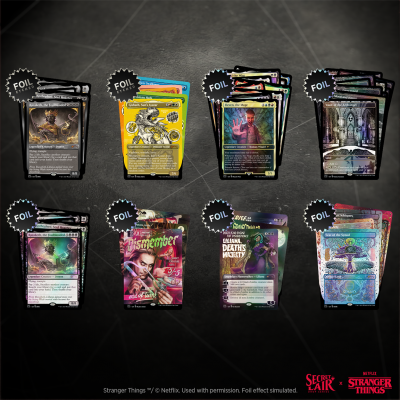 Shipping is free on orders over €99!
Description
Overview
You like the shiny things in life, eh? Perhaps avarice is your sin? A bundle of all the foil drops, both traditional and foil etched? Well, here's a spooky story of a man who also liked things who sparkled in the light: he died! Of old age! After living a long, fulfilling life! Scared yet? You should be. 

Stranger Things ™/ © Netflix. Used with permission.
Contents
1x Secret Lair x Stranger Things Foil Edition 
1x Mirrodinsanity Foil Edition 
1x Monster Anatomy 101 Foil Etched Edition 
1x Monster Movie Marathon Foil Edition 
1x Read the Fine Print Foil Edition 
1x Read the Fine Print Foil Etched Edition 
1x Showcase: Midnight Hunt Foil Edition 
1x Thrilling Tales of the Undead Foil Edition