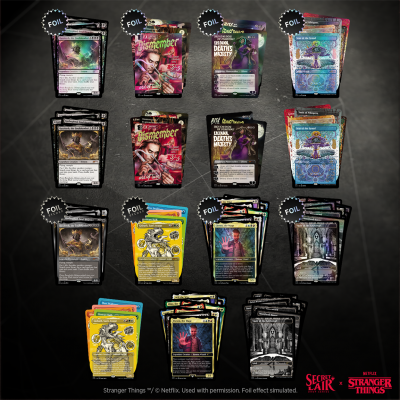 Boo-Tacular Bundle Bundle
Shipping is free on orders over €99!
Description
Overview
Our first spine-chilling bundle is for people who love bundles… TO DEATH! This bundle contains every single drop, both foil and non-foil. Do you know who else loves bundles? Be careful, the answer might be so terrifying as to shock you to your very core. Bundled up in gauze and swarming with scare-abs, it's the accursed mummy! What, too scary? Did you call for you own? (Mummy and mommy are homophones if you read them in an EXTREMELY SCARY VOICE.) 

Stranger Things ™/ © Netflix. Used with permission.
Contents
1x Secret Lair x Stranger Things 
1x Secret Lair x Stranger Things  Foil Edition 
1x Mirrodinsanity 
1x Mirrodinsanity Foil Edition 
1x Monster Anatomy 101 
1x Monster Anatomy 101 Foil Etched Edition 
1x Monster Movie Marathon 
1x Monster Movie Marathon Foil Edition 
1x Read the Fine Print 
1x Read the Fine Print Foil Edition 
1x Read the Fine Print Foil Etched Edition 
1x Showcase: Midnight Hunt 
1x Showcase: Midnight Hunt Foil Edition 
1x Thrilling Tales of the Undead 
1x Thrilling Tales of the Undead Foil Edition