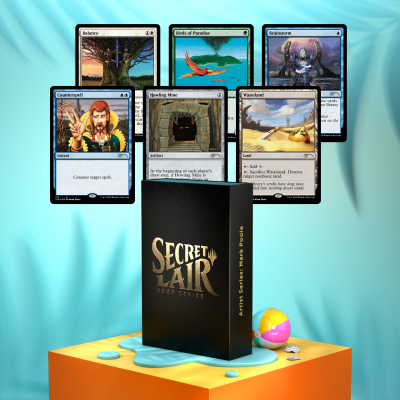 Artist Series: Mark Poole
Shipping is free on orders over €99!
Description
Overview
Mark Poole is one of the all-time greats. He's been with the game since the start and continues to make awesome art to this day. We really wanted this drop to celebrate his rich history with the game. To that end, it includes both classic art, some of which has never before been seen in the modern frame, and brand-new masterpieces for beloved cards. Shocking no one, Mark delivered, big time. 
Contents
CONTENTS
1x Alt-Art Balance
1x Birds of Paradise 
1x Alt-Art Brainstorm 
1x Counterspell 
1x Howling Mine 
1x Alt-Art Wasteland 
*Unless otherwise stated, all printed Secret Lair drops are English language.
**The release date of this product was changed from September 23, 2021 to October 29, 2021.