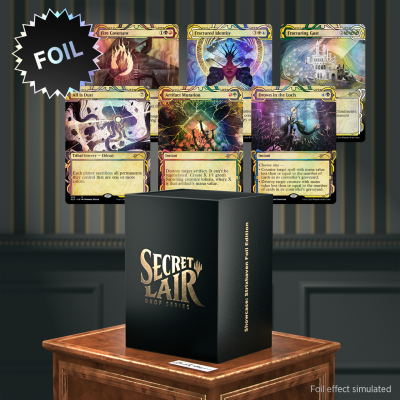 Showcase: Strixhaven Foil Edition
Shipping is free on orders over €99!
Description
Overview
At the heart of Strixhaven University lies the Biblioplex, a massive library packed with ancient scrolls and arcane tomes. One of its impossibly large wings is the Mystical Archive, said to contain a copy of every spell ever created in the Multiverse. While you may have seen a glimpse of its contents in the Strixhaven set, it holds countless more secrets within. This drop contains six more spells featuring the Showcase Mystical Archive frame, brought to life by Rovina Cai, Anato Finnstark, Justin & Alexis Hernandez, Minttu Hynninen, and Dominik Mayer.
Contents
CONTENTS:
1x Foil Showcase All is Dust
1x Foil Showcase Artifact Mutation
1x Foil Showcase Drown in the Loch
1x Foil Showcase Fire Covenant
1x Foil Showcase Fractured Identity
1x Foil Showcase Fracturing Gust