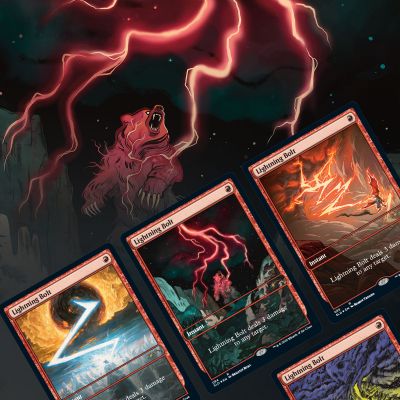 Shipping is free on orders over €99!
Description
Overview
This drop celebrates the quintessential red spell: the humble and efficient Lightning Bolt. Whether it's destroying your opponent's mana dork on turn one or simply being hurled into their face, Lightning Bolt does it all, as long as "all" can be done with three direct damage. Each piece shows a different creature getting totally wrecked by the cruel and unforgiving power of nature (out of respect for the feelings of Ornithological Studies, birds will be getting a pass). These full-art foil cards feature electrifying, brand-new art by Noah Bradley, Brigitte Roka, Robbie Trevino, and Alexis Ziritt.

Or get this drop, four others, and an Alt-Art Fetch Land in the Summer Superdrop Bundle!

Estimated Shipping Date: August 15th - September 30th

Our Secret Lair Summer Superdrop Sale has been postponed June 4th in observance of the National Day of Mourning.  Our sale will resume with Mountain, Go on June 8th at 9am PST.  For the latest updates please follow us on our Secret Lair Twitter HERE.
Contents
CONTENTS:
4x Different Foil Full-Art Alt-Art Lightning Bolt cards
MTG Arena Redemption:
One (1) single-use code for
one MTG Arena Mountain, Go Themed Sleeve
(may be available later for separate purchase in MTG Arena).
Magic Online Redemption:
One (1) unique code to redeem one (1) copy of each of the four (4) different Secret Lair Drop Lighting Bolt cards for use in Magic Online.
*MTG Arena and Magic Online codes must be redeemed within one year of order confirmation. Not available in all countries or territories. Not for resale.
**MTG Arena and Magic Online codes are not available in the following regions: China, Hong Kong, Macao, Singapore, Taiwan and Vietnam.
***Unless otherwise stated, all printed Secret Lair drops are English language.