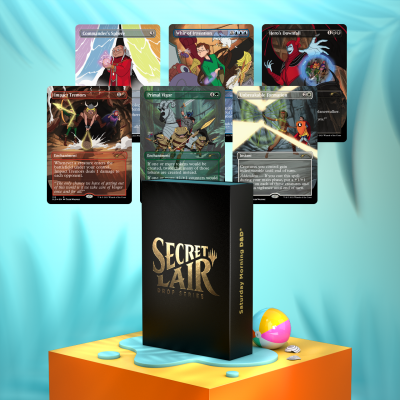 Shipping is free on orders over $99! —US only—
Description
Overview
It's 1983. It's Saturday morning. You douse a bowl of sugary cereal with a splash of milk, then run over to the TV. (You try not spill, but you spill a little anyway. Someone else will get that.) After fiddling with the dials, you tune in for the first ever episode of the Dungeons & Dragons TV show. Cartoon scientist and skilled artist Tyler Walpole has successfully distilled that feeling into Magic art. Just look at these things, they're spot on! Whether you're a fan of D&D, a fan of Magic, or just a fan of fun, you'll find what you're looking for in this drop.  
Contents
CONTENTS 
1x Borderless Commander's Sphere  
1x Borderless Hero's Downfall 
1x Borderless Impact Tremors 
1x Borderless Primal Vigor 
1x Borderless Unbreakable Formation 
1x Borderless Whir of Invention 
*Unless otherwise stated, all printed Secret Lair drops are English language. 
**The release date of this product was changed from September 23, 2021 to October 29, 2021.