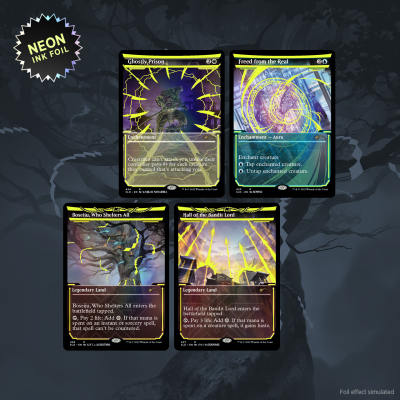 Showcase: Neon Dynasty Neon Ink Foil Edition
Shipping is free on orders over £89!
Description
Overview
Celebrate the release of Kamigawa: Neon Dynasty with a bonus release of striking Neon Ink Foils. Premiering in Neon Dynasty, Neon Ink Foils sport a fluorescent ink that pops right off the card. Featuring art by booster fun artists AI NANAHIRA, ESUTHIO, SENNSU, and ZOUNOSE, these cards are the perfect way to highlight your deck or collection. 
Contents
1x Neon Ink Foil Ghostly Prison by AI NANAHIRA 
1x Neon Ink Foil Freed from the Real by SENNSU 
1x Neon Ink Foil Boseiju, Who Shelters All by ESUTHIO 
1x Neon Ink Foil Hall of the Bandit Lord by ZOUNOSE 
MTG Arena Redemption: 
*One (1) single-use code for four (4) "
Showcase: Neon Dynasty
" Themed Sleeves (may be available later for separate purchase in MTG Arena). 
*MTG Arena and Magic Online codes must be redeemed within one year of order confirmation. Not available in all countries or territories. Not for resale.
**MTG Arena and Magic Online codes are not available in the following regions: China, Hong Kong, Macao, Singapore, Taiwan and Vietnam.
***MTG Arena codes are not available for in-app redemption. Redeem codes via the desktop client or by logging into your Wizards account (link). Redeemed content is available on your account on any platform.
****Unless otherwise stated, all printed "Secret Lair" drops are English language.