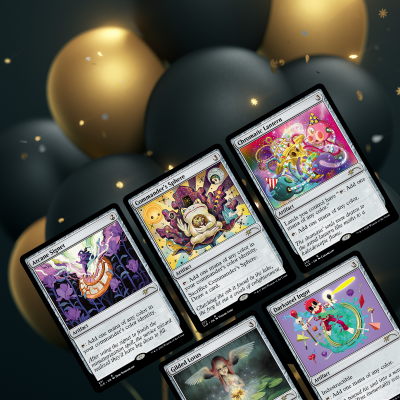 Shipping is free on orders over £89!
Description
Overview
Mana rocks are the foundation (see what we did there?) of many games of Magic, but we never really see them get used in-world. This drop explores strange and uncanny wizards from across the Multiverse using rocks we all know and love in an atypical pop art style. This drop contains totally rockin' art by Caramelaw, Mab Graves, Dani Pendergast, Theodoru, and Yosuke Ueno. May your fixing be as powerful as it is plentiful!
Contents
CONTENTS: 
1x Alt-Art Arcane Signet 
1x Alt-Art Chromatic Lantern 
1x Alt-Art Commander's Sphere 
1x Alt-Art Darksteel Ingot 
1x Alt-Art Gilded Lotus 
MTGO Redemption: 
One (1) single-use code for one (1) copy of each of the "A Box of Rocks" Arcane Signet, Chromatic Lantern, Commander's Sphere, Darksteel Ingot, and Gilded Lotus cards.
*MTG Arena and Magic Online codes must be redeemed within one year of order confirmation. Not available in all countries or territories. Not for resale.
**MTG Arena and Magic Online codes are not available in the following regions: China, Hong Kong, Macao, Singapore, Taiwan and Vietnam.
***Unless otherwise stated, all printed Secret Lair drops are English language.